Meet POW Conversational AI Chatbot
Say hello to POW AI, your personalised support superstar! Just like a friendly human service agent, you can boost your support capacity without breaking the bank on hiring costs!
Get in touch with us today and we'll be happy to share how we can help you & your business…
Upgrade your business with an AI support agent. Get POW AI today!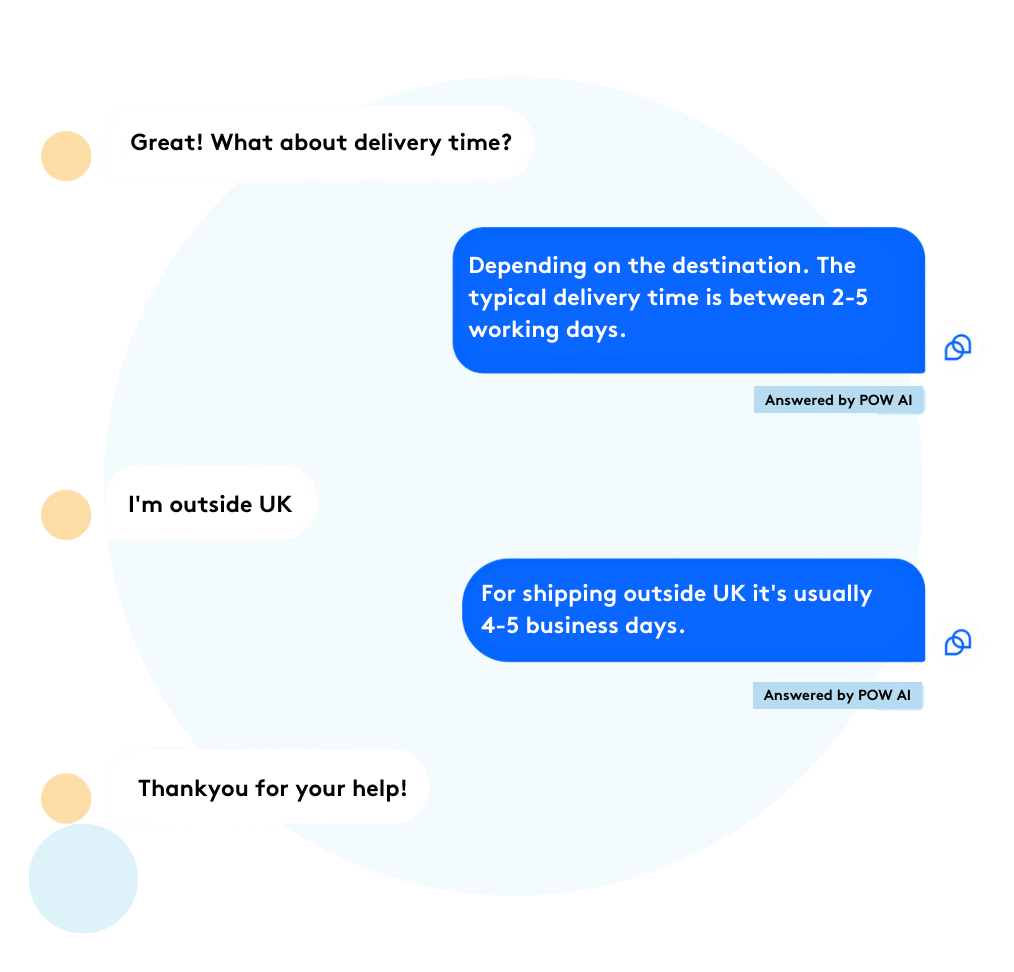 Experience Next-Level Support with POW AI!
Elevate your customer support experience with POW AI's personalised & lightning-fast assistance. Say goodbye to hiring costs while delivering exceptional service!
Personalised Assistance
Lightning-fast Responses
Cost-effective Solution
Boost user satisfaction with AI conversations
Elevate user satisfaction with AI-powered conversations that feel just like chatting with a human. Say hello to POW AI, your personalised support expert!
Human-like Interactions
Meaningful Responses
Contextual Understanding
Skip the Training. Start Engaging customers
Skip the training and automate your customer service effortlessly with POW AI. It's easy to implement, brand-safe, and available 24/7 for engaging customer conversations.
Instant Activation
No Training Needed
Brand-safe & Accurate
Always Reliable: Data-Backed Answers with POW AI!
Keep your customers informed and satisfied with POW AI's data-backed answers. Minimise inaccuracies by staying within your knowledge base & redirect customers to human agents for specialised inquiries.
Accurate Data
Minimise Inaccuracies
Seamless Human-Agent redirects
"I have invested over half a million with POW & Glenn. That is just how much I trust him. He's always at the cutting edge."

"Glenn knows his sh*t.. since contracting him our sales have risen 20% month on month & 95% are directly due to the marketing effort he has put it. He knows the success formulas.. Bottom line, Glenn knows more than other "so called" specialists!"

"... as Post Code Lottery we've worked with the biggest agencies with our £50 million annual Marketing budget. But I have to say... Glenn is the best of the best. His depth & breadth of knowledge is unparalleled in the industry. Highly recommended."
Book a 1-2-1 Consultation… the Coffee is on us!