Ready to Crack the "Cold Traffic" Code
Discover the step-by-step method to building a Funnel that generates Buyers from Scratch…
and Profitably Scales to Cold Traffic.
We've been helping companies put customer data at the heart of their business for over 30 years. Watch the short video to learn how we do it.
The 5-Day Buyers From Scratch Challenge
Starts On August 14th
Join Glenn Burgess for the
5-Day Buyers From Scratch Challenge!
Time Sensitive: In just 60 minutes per day, this 5-day LIVE and highly-interactive challenge will help you build a
"cold traffic funnel" that generates customers on demand and profitably scales to cold traffic!
Discover the EXACT strategy Glenn has used to grow and scale not 1, not 2, but many 7-figure businesses ranging from consumer products to live events to marketing training.
It's not complicated, and it works like clockwork. The only thing you need is a computer with internet access and about 5 days of your time.
From the Desk of Glenn Burgess
August 4th, 2023
Fellow Marketer,
Imagine what would happen if you could get 100 new customers every single day…
Imagine waking up every morning knowing that your business is growing predictably and profitably…
Imagine knowing you can craft funnels that convert total strategy into customers AT A PROFIT on demand…
What would that do for your income? How much closer would you be to achieving financial freedom? Would this make it easier for you to take care of yourself and those around you?
If you feel like you're just spinning your wheels and no matter how hard you work, your business isn't growing as fast as it should…
I'm willing to bet that the REAL REASON you're stuck isn't what you think it is.
Yes, traffic costs are up (And harder to track, thanks Apple)…
Yes, competition is fierce…
Yes, a pandemic has fundamentally changed the way we live and work…
…but are any of these factors the REAL REASON you're stuck?
I don't think so.
In fact, I believe…
The REAL REASON your sales have stalled…
The REAL REASON your new product hasn't launched…
The REAL REASON you just flat out aren't making as much MONEY as you should be making usually comes down to one thing…
Your Marketing Doesn't Scale


Here's the deal: Most "winning" marketing campaigns stop working at scale.
If you've ever advertised on Facebook, Instagram, or Google, tell me if this sounds familiar…
You launch a brand-new campaign with a fairly small test budget. 
After a day or two, it's clear you have a winner! Volume is small, but the campaign is profitable, so you ratchet up the budget.
As your spend increases, so do sales. Immediate ROI dips a bit, but you're still in the black, so you pour on a little more budget. Ok, so if you're anything like me, you pour on A LOT more budget. After all, we have a winner…
"It's time to scale!!!" 
Next thing you know, you're telling Facebook and Google…
Conversions drop…sales dry up…and your winning campaign becomes a big, fat loser. You do your best to optimize the ad copy and targeting, but nothing seems to work. 
Even more frustrating, when you drop your spend back down to the original test budget levels, the campaign is still a flop.
"What happened?" you ask yourself…
"Why do profitable campaigns suddenly become unprofitable the moment you try to scale them?"
Most marketers won't admit it, but THIS is the question we're all DESPERATELY trying to answer.
And the good news is, I'm about to do just that…
It turns out, the secret to "profitable scale" has almost nothing to do with your skills as a media-buyer. Yes, there are things you need to know and basic rules you need to follow, but at this point, clicks in Facebook, Instagram, and Google cost what they cost, and there's little you can do to change that.
So, if the secret to profitable scale isn't in the ad-buying, then what is it?
The liberating truth you must understand is this…


There's No Such Thing as a "Traffic Problem"


I'll say that again, because it's important…
"There's no such thing as a traffic problem."
Today, it's easier than ever to get traffic to your website.
Buying traffic is a lot like buying a book.
If you want a book, you go to book store (a.k.a. Amazon) and you order the book.
Similarly, if you want traffic, all you have to do is go to the "traffic store," (a.k.a. Google and Facebook) and order up some traffic.
You may not fully believe what I'm about to say, but trust me…
…traffic is the easy part.
The more challenging piece of the puzzle (and the secret of "profitable scale") is what happens to your visitor AFTER they hit your page.
To put it another way…


The Real Secret To PROFITABLY Acquiring Customers At Scale Is Learning To Build Funnels That "Expand the Circle"
I realize this is all a bit cryptic, so please allow me to explain…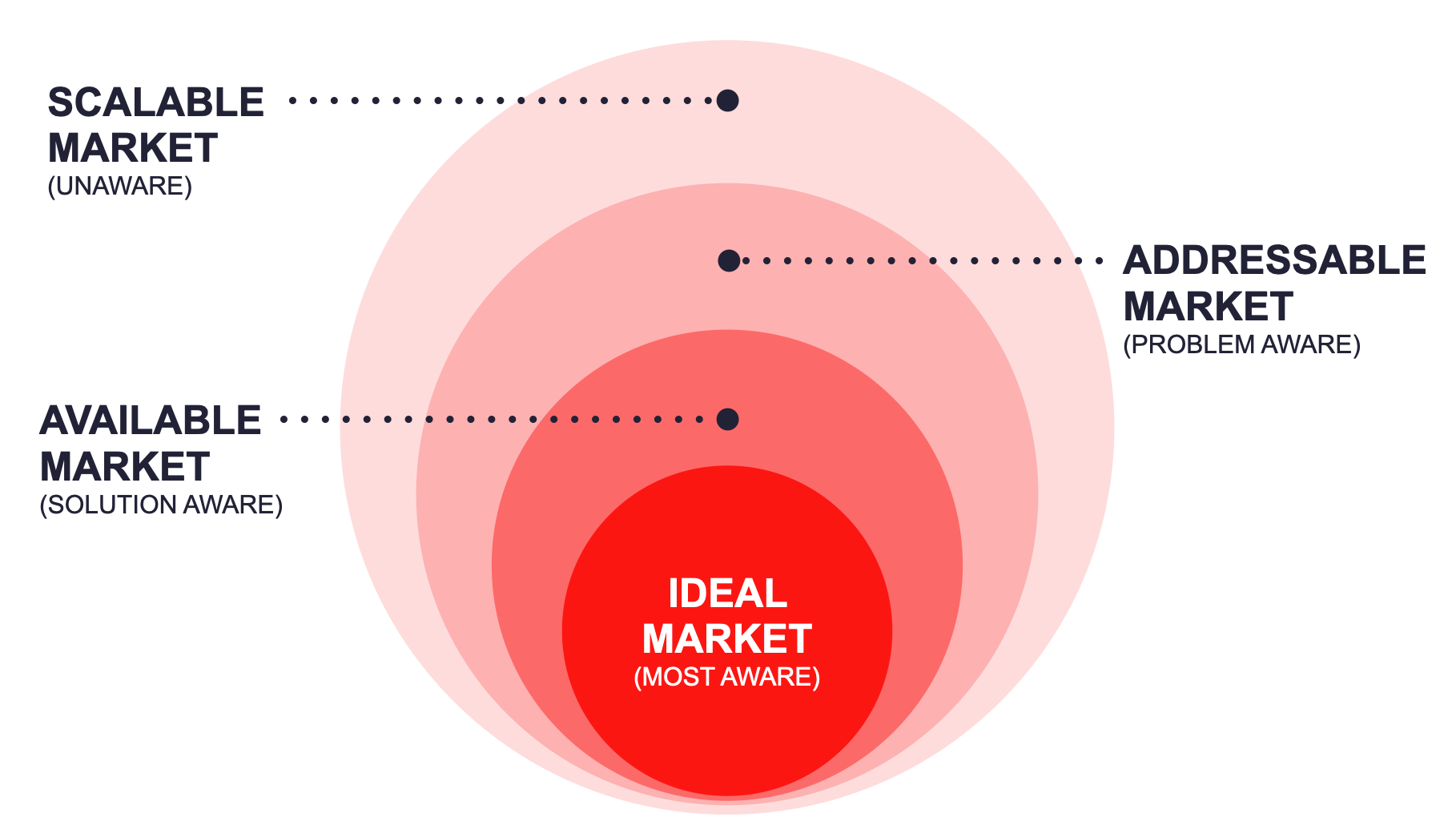 The chart, above, describes the four market-types that exist at all times and in all industries and verticals. They are:
IDEAL MARKET – People who are aware of your products and services, and who already know, like and trust you.
AVAILABLE MARKET – People who may not be familiar with you and your brand, but who are actively seeking a solution that you provide.
ADDRESSABLE MARKET – This group knows they have a problem, but they aren't aware of, or committed to, any particular solution. (HINT: This group is your biggest untapped opportunity and holds the secrets to profitable scale.)
SCALABLE MARKET – This group is the most difficult to reach, because they are neither aware of your solution, nor are they even aware that they have a problem that needs to be solved.
Can I be blunt with you?
The fact is, it's fairly easy, to build a marketing campaign that converts to your "Ideal Market." These are the people who want what you're selling, and (more importantly), they already know, like, and trust you. This is equivalent to sending a promotion to your own customer list…
…it just doesn't take a world-class marketing genius to pull that off.
Similarly, building funnels and campaigns that capture your "Available Market" is also fairly easy, because these are the people who are actively looking for a solution that you provide.
Sure, you'll need to do a little work to convince them that your solution is the best, but the"heavy lifting" of demand-creation is done, because they're quite literally SEEKING a solution that you provide.
But here's the problem…
Both of these groups, the Ideal Market and the Available Market, are relatively small.
In other words, while these campaigns might generate high conversions a solid ROIs, they…
…do…
…not…
…scale…
And THIS Is Why Sales Stall and Marketers Get Stuck…


Nearly all the funnels I see that work at first but then fail at scale have the exact same problem…
…they're all targeting the wrong audience-type.
They're either targeting the Ideal market, or they're targeting the Available Market, but almost no one is actively creating campaigns and funnels designed to convert the ADDRESSABLE MARKET, which in any niche is at least 10X the size of both the Ideal and Available Markets, combined!
So, if you want to grow your sales and profits, your mission is simple…
You need to build a funnel that can profitably scale to cold media, and to do that, you need to build evergreen campaigns that can attract and convert not just your Ideal Market, but the MUCH LARGER Addressable Market and the EVEN LARGER, Scalable Market.
Let me show you…
Thousands Of Split Tests, Hundreds Of Tools, And Millions In Ad Spend Reveal The Fastest Path To Profitable Growth


When you've been in business long enough to survive multiple Google updates, Facebook targeting changes, iOS tracking changes, new advertising channels, new tech, new tools, new selling methods (you get the point), you're going to learn a thing or 1,000. 
And make a big discovery along the way…
It didn't matter what the marketing & tech worlds threw at us, because ultimately…
The ability to craft funnels that convert total strangers into customers AT A PROFIT is the single most valuable skill anyone can have.
Normally, it would take years of practice and experimentation to become an expert at crafting funnels that convert strangers into paying customers on a consistent basis.
Over the past decade, I've developed a step-by-step method to discover the "big idea", select a proven selling model, craft the perfect funnel, and ultimately scale it to cold media!
And this method can be taught to marketers just like you in a matter of days.
Marketers who are ready to unlock a predictable flow of leads, customers & sales to change their businesses forever.
That is why I've put together my 5-day Buyers From Scratch Challenge.
This is not your average "how to get more customers" course. It's the exact system I use every single month in my own business and it works for me, so I know it'll work for you too.
After 5 days you will leave with a simple, actionable marketing funnel that will get you brand new buyers from scratch, plus a 90-day guide for executing and optimizing your plan.
I will walk you through every step of the way on LIVE coaching calls…
The Four Critical Aspects To A Winning Offer
Discovering Big Ideas & "EPOs"
Proven "cold traffic funnels" to generate customers on demand
Crafting your funnel and running the numbers (KNOW it's going to work before you launch)
Execute, optimize, and scale your new funnel!
And it's all done through a step-by-step road map tailored just for you and your business.
So if you are ready to get focused, take action, and SCALE – I want you to join me in our Buyers From Scratch Challenge.
I am so excited to share this process with you…because I know the power and potential it has for you as well as the impact it can make on your business.
Imagine what's possible when I take you through over a decades worth of experience selling online in just 5 days and leave you ready to profitably generate customers from cold traffic.
What would it mean to you to not only see this method…
But take powerful daily action over 5 days with support from myself and hundreds of other marketers from all over the world?
Click the button below and join this incredible 5-day experience.
To your success,
Each day during the challenge we will stream LIVE via Zoom. All you have to do is join via your meeting link at the time of the call and we'll be there (don't worry, we'll send you reminders too)

During these 60-90 minute calls, Glenn will go in-depth on the exact strategy he uses to convert total strangers into customers AT A PROFIT while helping you to learn how to use it in your business!

Engage with Glenn, the DigitalMarketer team, as well as fellow challengers inside the private Facebook group as we help each other plan our "Buyers From Scratch" funnels and get valuable feedback to optimize your strategy.

By the end of the challenge, you will have all the support and training you need to leave with your own simple, actionable marketing funnel that will get you brand new buyers from scratch PLUS we'll give you a 90-day guide for executing and optimizing your plan!



11am Pacific | 2pm Eastern

Expand the Circle & Find 10X Higher Value Leads

11am Pacific | 2pm Eastern

Discovering Your Value Ladder

Wednesday, August 16th
11am Pacific | 2pm Eastern


 

Proven "Cold Traffic Funnel" Models

11am Pacific | 2pm Eastern

 

Adding $100k In New, Repeatable Monthly Revenue

11am Pacific | 2pm Eastern

Funnel "Hot Seats" With Our Expert Panel
Who is Glenn Burgess?
UK's No1 fintech and SaaS marketing expert. With multiple multimillion launches under his belt – and a stables of Global No1's, he now is an International Speaker, invests in startups, mentors and coaches SaaS owners and teaches at both Google Campus and Ilia State University, Georgia.