Middle of the Funnel for SaaS: Definition, Content Types, Best Practices, and Mistakes
Middle-of-the-funnel is very crucial when it comes to communicating with prospects.
A marketing term that describes the journey that potential customers go through on the way to making a purchase is referred to as sales funnel. The key insights given to sales team about the customer's needs, problems, and decision-making process is also given by sales teams. 
At each stage of the buyer's journey, the goal of content marketing is to guide your prospects through the sales funnel with content that is relevant to their needs. 
What is middle-of-the-funnel in the first place?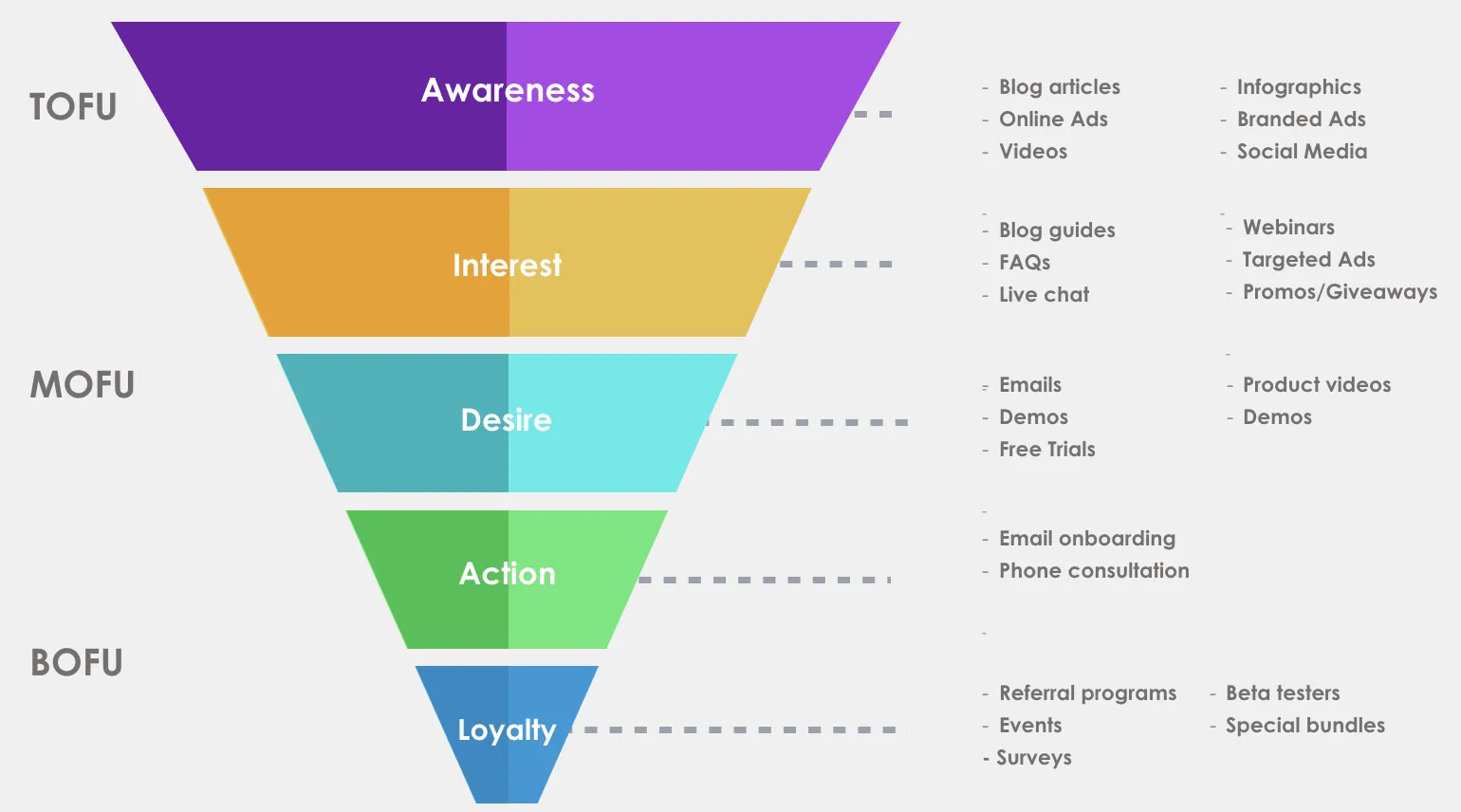 The three distinct stages of sales funnel are:
Top of the funnel (ToFu): Discovery and awareness
Middle of the funnel (MoFu): Researching and evaluating solutions
Bottom of the funnel (BoFu): Making an informed purchase decision
"Ideal customers" have named and defined their problem and their questions more specifically. They are usually the prospects that still remain in the middle of the funnel. 
The leads become qualified when salespeople talk to these prospects to see if they are a good fit for their offer. They are encouraged to interact with the SaaS company for more information and nurtured through gated middle-of-the-funnel content. 
What is middle-of-the-funnel content?
The following characteristics are found in middle-of-the-funnel content such as pros vs cons lists, comparison lists, checklists, and in-depth guides:

It showcases your products as a solution to them and acknowledges the prospect's pain points and the consequences of the pain points.
In the form of customer testimonials, case studies, and product comparisons, it provides proof of your product's advantages over other competitors. 
It is aligned to the prospect's buying stage in the funnel where they understand their problem and which type of solution they need.
Why does middle-of-the-funnel content matter?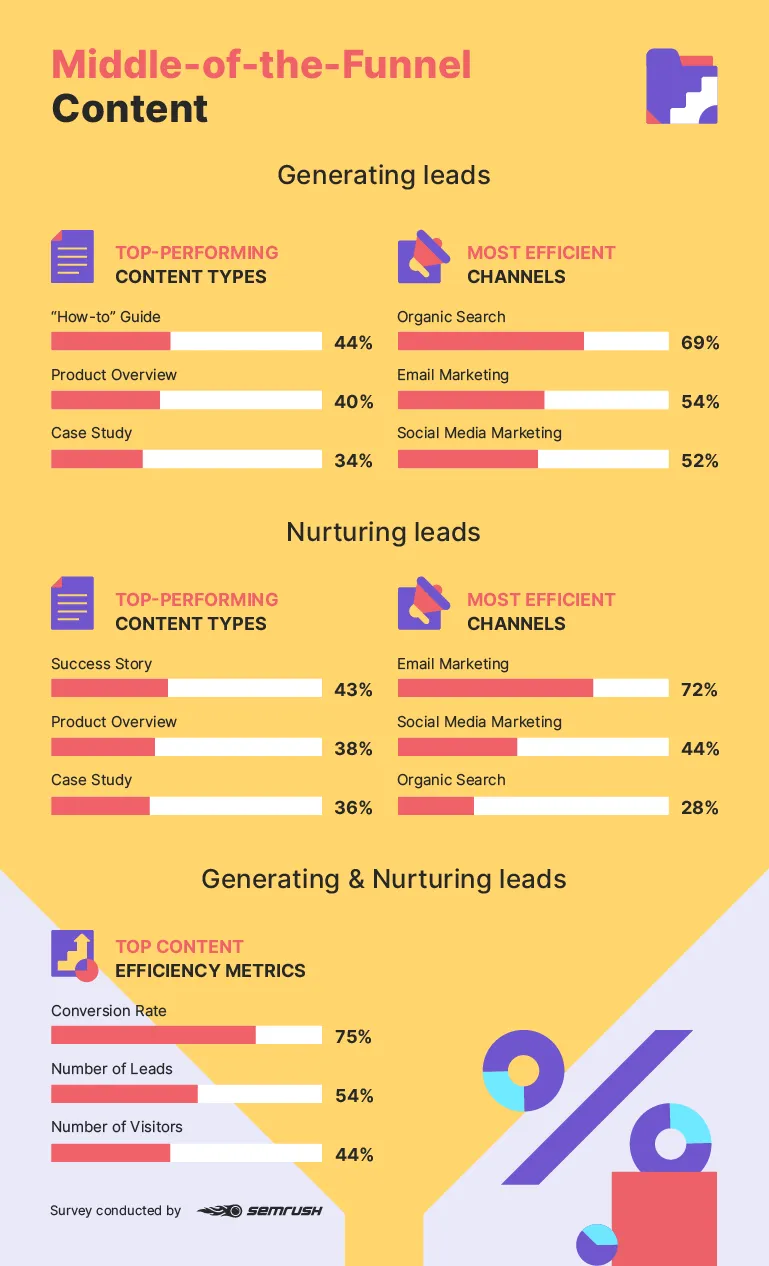 To solve the prospect's problem, with middle-of-the-funnel content, SaaS brands position themselves as the market leader of their category. The scope of the content is more detailed and contains targeted offers
What are the types of middle-of-the-funnel content?
Middle-of-the-funnel content provides in-depth information about your product in alignment with the needs and challenges of prospects. Let's explore the different types of middle-of-the-funnel content in detail.
1. Product comparisons
Why it works:
The purchasing decision of buyers is made easier by honest and comprehensive comparisons between your product and competitors' products. These pages help you rank for branded queries (that have less competition). E.g. "brand vs brand," "competitor + alternative."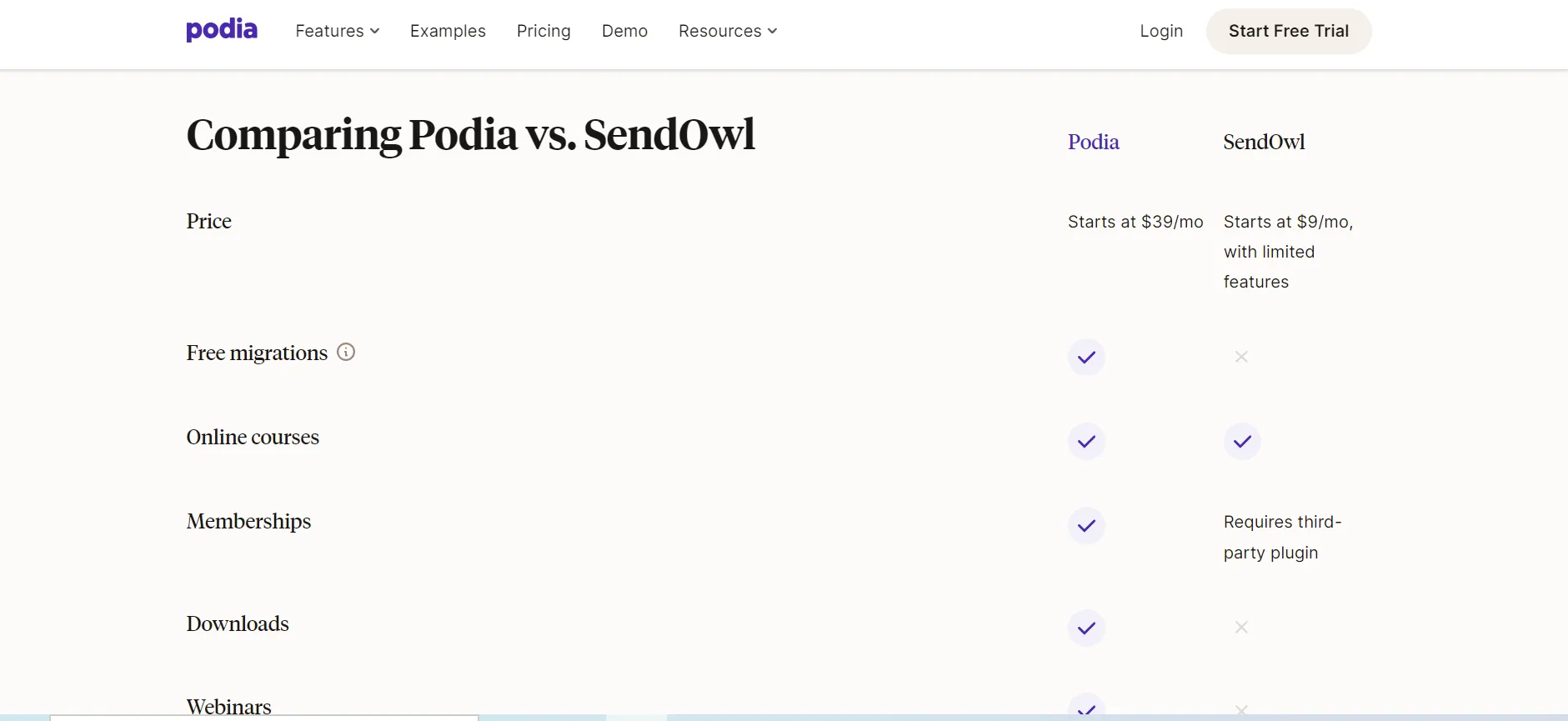 Best practices to create product comparisons:
Create separate pages for each competitor for optimized ranking.
Use detailed comparison grid to differentiate your product. Include date, overview, pricing, and feature/capability comparisons.
Include customer testimonials to build trust. Use "before and after" customer quotes.
Avoid promoting competitors. Don't use logos or branding. Highlight your brand subtly with brand colors when talking about your product.
Avoid linking to competitor's website.
Tools to create product comparisons:
Type your brand name or product name and "vs" to get a list of your competitors. Research your brand and who you're being compared to using Google autosuggest. To get data on search volume and cost per click, use Keywords Everywhere, Ubersuggest or LiveKeyword. 
To build product comparison grids, comparison chart makers like Visme, Piktochart, or Canva can be used. 
2. Case studies
Why it works:
To show your prospects the process of solving a problem and the outcomes achieved, case studies are a powerful way. 
46% of B2B buyers find case studies most valuable in the middle stages of the buying process. They "prefer more practical content such as case studies and examples of what people have done with something." They are real-life examples of how your product helped customers get the results they want.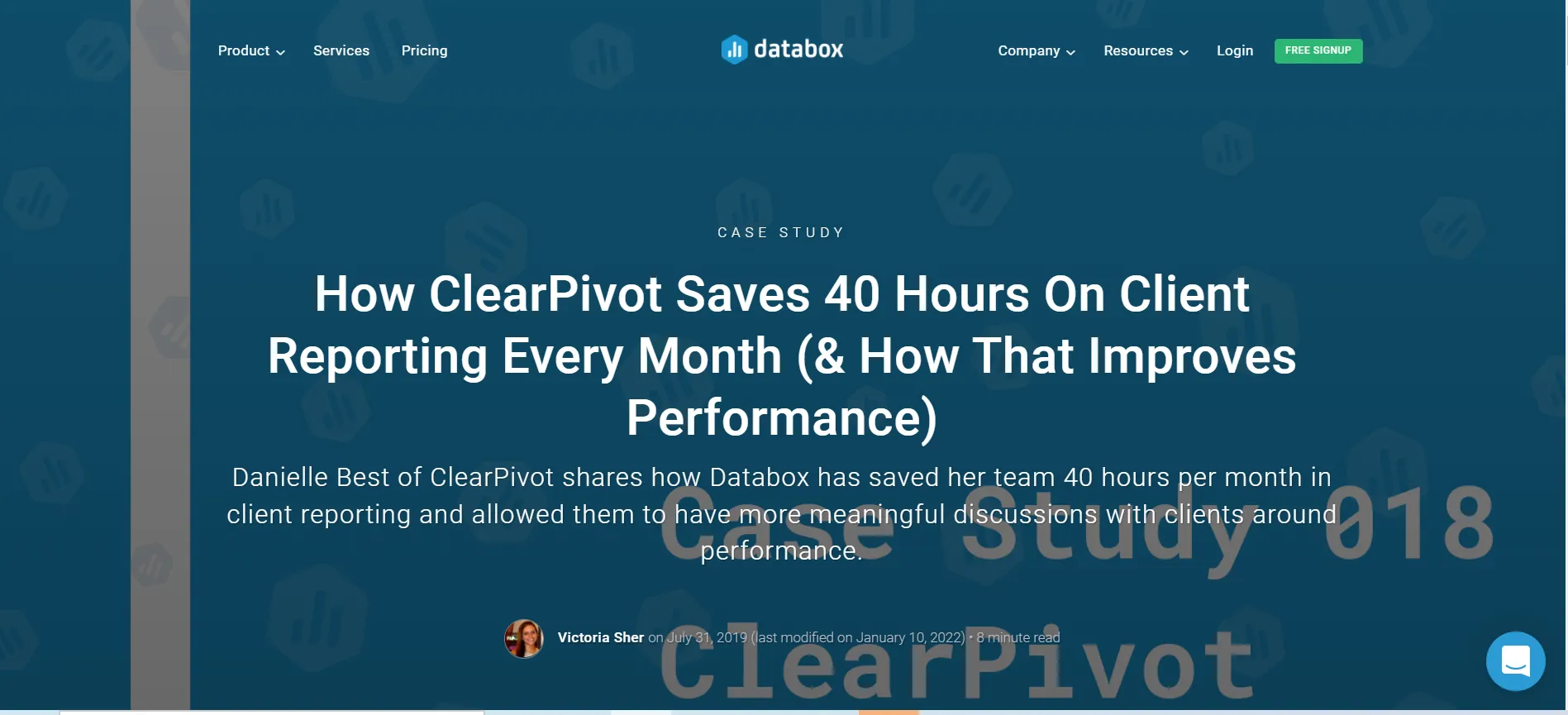 Best practices to create case studies:
Select right candidate with excellent results. Show prospects your understanding of industry & ability to deliver results.
Use storytelling to engage readers. Show brand voice & personality. Include emotional benefits & figures.
Make it readable with headers, bulleted lists, images, bold/italic text. Break down text into sections. Use video interviews & images.
Use specific, accurate numbers. Avoid vague language. Include charts, graphs, & analytics.
Detail strategy used to solve customer problem. Show expertise in industry.
Display on website, promote in newsletters, optimize for search & social media. Increased visibility leads to higher conversions.
Tools to produce case studies:
Case study design software offer a variety of templates to create visually appealing and engaging case studies like Venngage, Visme, Piktochart, and Xtensio. 
3. Listicles of alternatives
Why it works: 
When they're unhappy with the product they're currently using and looking for other options or conducting research, prospects typically search for "listicles of alternatives". They're aware of one brand and they're searching for alternatives to compare before they make a purchasing decision.
A list format helps readers quickly find out other options for the product they want to buy. Creating content to rank for "[Brand name] alternatives" is valuable because you're capturing search traffic for terms that people are already searching for. E.g. ClickUp's article on Trello alternatives.
Best practices to create listicles of alternatives:
Offer a brief summary. Prospects seek alternatives; no convincing story needed.
Highlight your product first. Mention at top of list, target audience & addressed pain points. Include use cases & case studies if available.
Give an objective view of other products. Be honest about both pros & cons and suitability.
Provide screenshots to add credibility. Discuss product improvement history to add value.
Tools to create listicles of alternatives:
Keyword research tools like KWFinder by Mangools or SERPChecker by SERPWatch to find low-volume keywords.
Use infographic tools like Venngage or Visme to build an overview table of each product's features.
4. Booking demo landing pages
Why it works:
Prospects visiting booking demo landing pages are close to a purchase decision after evaluating options and realizing they have a problem.
Thus, these pages feature longer lead capture forms to gather more information for the sales team. Average SaaS landing page conversion rate is 4.6%.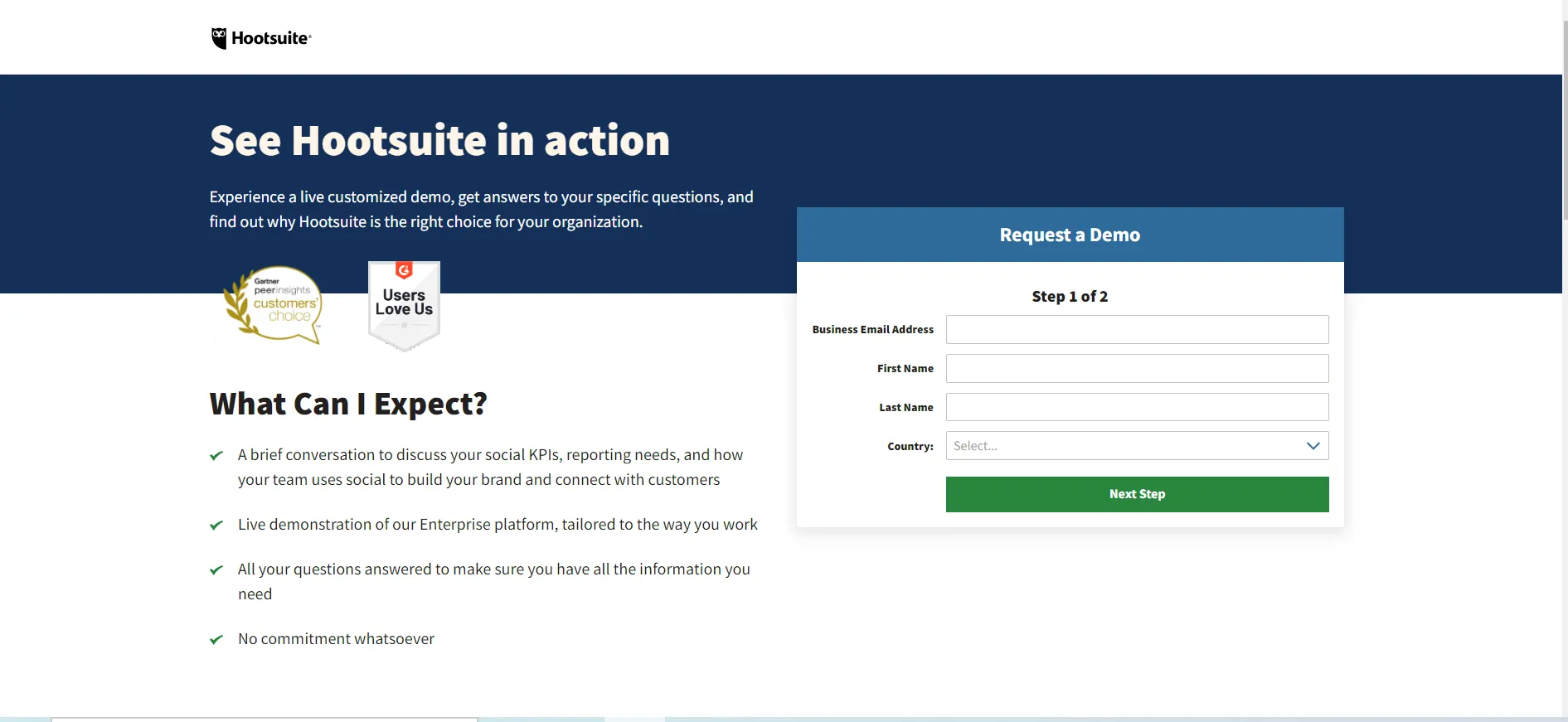 Best practices to create booking demo landing pages:
Use customer testimonials and logos for social proof.
Keep CTA button visible. Place it at the end of each section or in a topbar.
Limit form fields to only necessary information. Collect more later via demo or email.
Integrate scheduling tool and calendar for easy appointment booking.
Include a product video for increased engagement and conversions.
Tools used to create booking demo landing pages:
Landingi, Instapage, and Swipe Pages are great tools to build a SaaS demo landing page.
5. Free courses
Why it works:
Courses provide detailed lessons on relevant topics, delivered in sequence. Prospects exchange personal information for valuable content. A strong course builds industry expertise and drives word-of-mouth promotion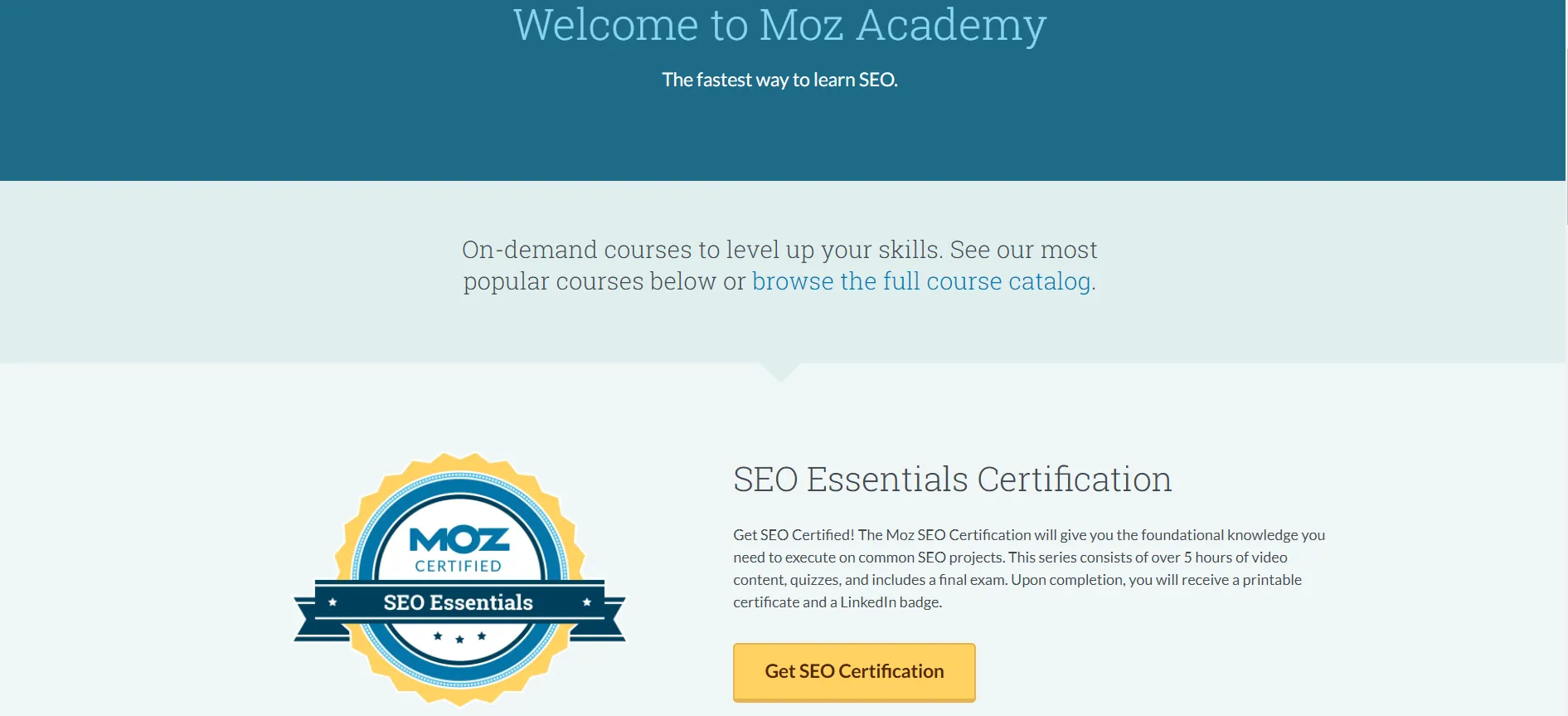 Best practices to create free courses:
Provide interaction opportunities like forums, live Q&A sessions or comments sections to engage participants.
Make sure the course is mobile friendly for on-the-go learning.
Offer the course for free but provide an upgrade option for paid access to premium materials, personalized feedback, or other perks.
Include a clear call-to-action at the end of each lesson and throughout the course.
Promote the course through your website, email list, social media, and other marketing channels.
Tools to create free courses:
Camtasia, Screenflow, Canva, and Teachable are popular tools to create online courses.
6. Whitepapers
Why it works:
Whitepapers are effective due to their comprehensive discussion of product features and provision of extensive data to illustrate problem-solving capabilities. 
Highly valued by B2B buyers as a means of understanding products, they can take the form of either a detailed fact sheet on your product/company or an analysis of industry trends. 
The ultimate goal is to generate leads, demonstrate value, grow email lists, and establish oneself as a thought leader.
Best practices to create whitepapers:
Include data and independent research to support claims in the whitepaper. Make it convincing through the strength of your research rather than self-promotion.
Follow a standard template: Title, Executive Summary, Introduction, Sections/Subsections, Sidebars, Conclusion.
Select a relevant, compelling topic. Focus on one problem and its solution (your product) rather than trying to cover too much in one whitepaper.
Enhance credibility with a table of contents, images, expert insights, and customer quotes.
Include your branding through images and footers, and link to additional resources on your website.
Tools to create whitepapers:
Adobe Spark, Lucidpress, or FlipHTML5 are used to design and publish whitepapers.
7. Webinars
Why it works:
Webinars can enhance brand credibility and provide a platform to gather information about prospects. 57% of B2B buyers consider webinars as the most valuable form of visual and audio content in making purchasing decisions.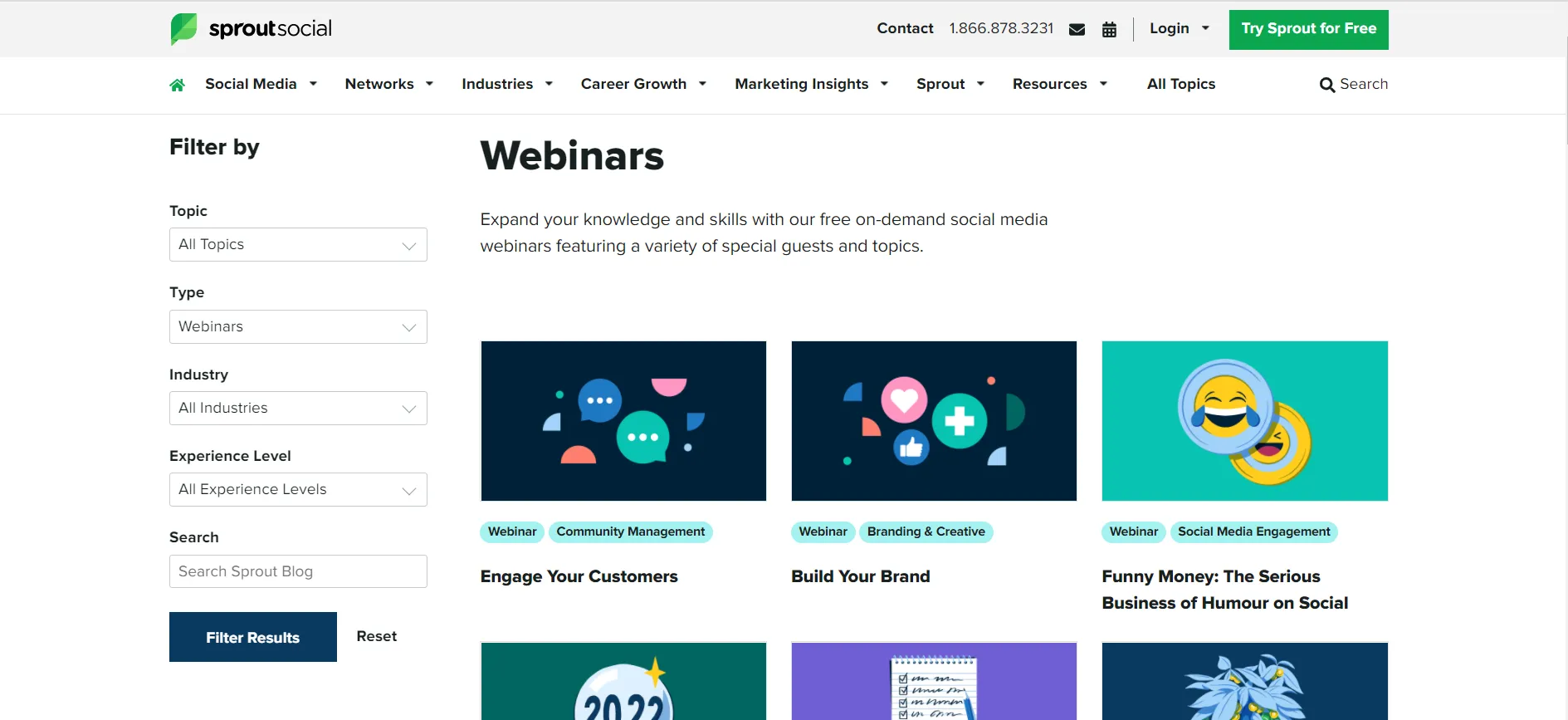 Best practices to create webinars:
Provide valuable resources such as templates, checklists, videos, training materials, or ebooks as exclusive benefits to webinar attendees.
Organize the webinar content for easy comprehension: Start with an introduction (5 mins), followed by the main content (20 mins), a Q&A session (15 mins), and wrap up with a clear call-to-action (2 mins).
Tailor the webinar to specific audience personas or industries for better relevance.
Timing is crucial; select a time that works for your target audience's time zone, with early mornings or Tuesdays being the most popular.
Tools to create webinars:
Infusionsoft, EverWebinar, WebinarJam, and Demio are some excellent webinar platforms with the necessary marketing tools to help you sell during the webinar.
8. Cheatsheets
Why it works:
Cheatsheets are an effective tool for summarizing important information on a topic in an easy-to-digest format. They are a popular content type that often receives high engagement and social media shares.
Cheatsheets can be created by extracting key points from longer pieces of content such as blog posts or ebooks.
Example: The "Marketo for Financial Services" cheatsheet offers a quick overview of the product's capabilities in the financial services industry.
Best practices to create cheat sheets:
Keep it concise, easy to read with a font size that's comfortable, and use clear headings and subheadings.
Include visuals such as screenshots and images to engage the reader.
Avoid repeating information. Make sure the cheatsheet provides a condensed version of how to use your product to solve a problem.
Tools to create cheat sheets:
Cheat sheets can be created by building a layout in Microsoft Word and exporting it as a PDF file.
Alternatively, you can use software like Canva, Visme, or Venngage that have pre-built cheat sheet templates.
9. Checklists
Why it works:
Checklists present a series of actionable steps to assist prospects in achieving their desired outcome. They are straightforward to create and share, offering valuable information. Incorporating them into blog posts or promoting on social media can expand reach.
Example: Pipedrive shares this five-step checklist to minimize the impact of firing a salesperson, which can also be sent via email.
Best practices to create checklists:
Pick a topic that aligns with your product/brand and addresses a particular challenge for your target audience.
Make the checklist straightforward and concise to assist users in accomplishing their objectives effortlessly.
Arrange the checklist in a user-friendly manner, such as by categorizing, listing steps, or outlining objectives.
Award a certificate or recognition to those who finish the checklist successfully.
Tools to create checklists:
Build visually appealing checklists with Canva, Creately, or Adobe Creative Cloud Express.
10. Longer demo videos
Why it works:
Demo videos provide a comprehensive look at your product, allowing prospects to see how it works and envision themselves using it. They build on established brand trust and expand it to include product trust.
Example: Check out this demo of Xero Projects.
Best practices to create demo videos:
Customize videos for prospects by offering new information and reminding them of why they're watching.
Showcase your product in action, addressing their pain points and providing solutions.
Include customer testimonials to enhance credibility.
Use a clear and logical sequence when introducing each feature, explaining it, and demonstrating how it works.
Anticipate prospects' questions and provide answers in the video.
Tools to create demo videos:
Adobe Captivate, Demo Builder by Tanida, Vyond, and SnagIt by TechSmith are excellent demo video creation tools.
11. Engaging drip emails
Why it works:
Drip email campaigns use marketing automation to send pre-written emails to prospects and customers over time. They allow you to send personalized messages to targeted email lists, nurturing leads and building trust. 
For instance, you can send welcome emails to prospects who have downloaded a digital asset or visited a specific landing page.
On average, autoresponders have an open rate of 26.47% and a click-through rate of 3.6%.
Best practices to create drip emails:
Personalize emails with sender's name and recipient's name in greeting, use of "you" in email, and a reply invitation.
Provide value to recipients, such as discounts, industry news, and relevant offers.
Include links to in-depth resources on your website for continued engagement.
Tools to create drip emails:
Mailchimp, Flodesk, and ActiveCampaign are good tools to create simple or advanced drip campaigns.
12. FAQs
Why it works:
FAQs are usually web pages but can be repackaged into email courses, content hubs, or guides. By tracking which questions get the most clicks and views, you can use the FAQ page to rank for your core keywords and increase your conversion rate.
Best practices to create FAQs:
Gather questions from sales and customer support teams and also from prospects/customers.
Use language that is simple and familiar to the customer.
Include a table of contents, index, or jump links, or an online search system for easy navigation.
Make answers clear with visuals such as screenshots, infographics, images, or videos.
Keep answers short, and link to more detailed resources if necessary.
Tools to create FAQs:
Plenty of good-quality FAQ software is available in the market: Helpjuice, Document360, ProProfs, SupportBee
13. Paid ads
Why it works:
Paid ads, especially display ads on third-party sites, increase engagement by increasing brand recognition.
Retargeting campaigns can also be used with paid ads to reach prospects who have previously interacted with the brand. You can also promote case studies and whitepapers effectively with paid ads.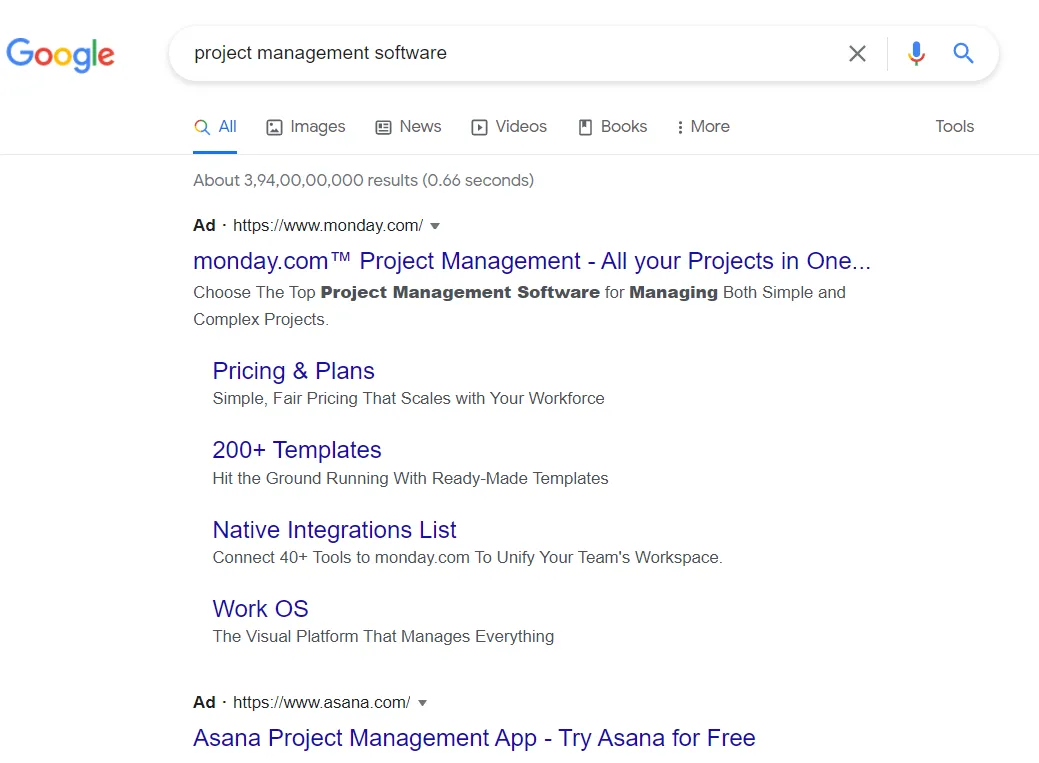 Best practices to create paid ads:
Tailor the ad design based on the platform's format and audience behavior.
Use engaging visuals, such as GIFs or videos, to convey more information with less space.
Ensure images have appropriate aspect ratios for the platform.
Add a sense of urgency to stand out from competitor ads.
Experiment and continually optimize for improved conversion results.
Tools to create paid ads:
Saas companies use Google Ads, AdRoll, Adzooma, or AdExpresso to manage paid advertising campaigns.
14. Trial period landing page
Why it works:
Trial period landing pages are effective in attracting prospects to sign up for a free trial and generate excitement about using your product. 
The landing page should motivate prospects to complete multiple steps, such as entering their email address and clicking the call-to-action (CTA) button, in order to experience your product.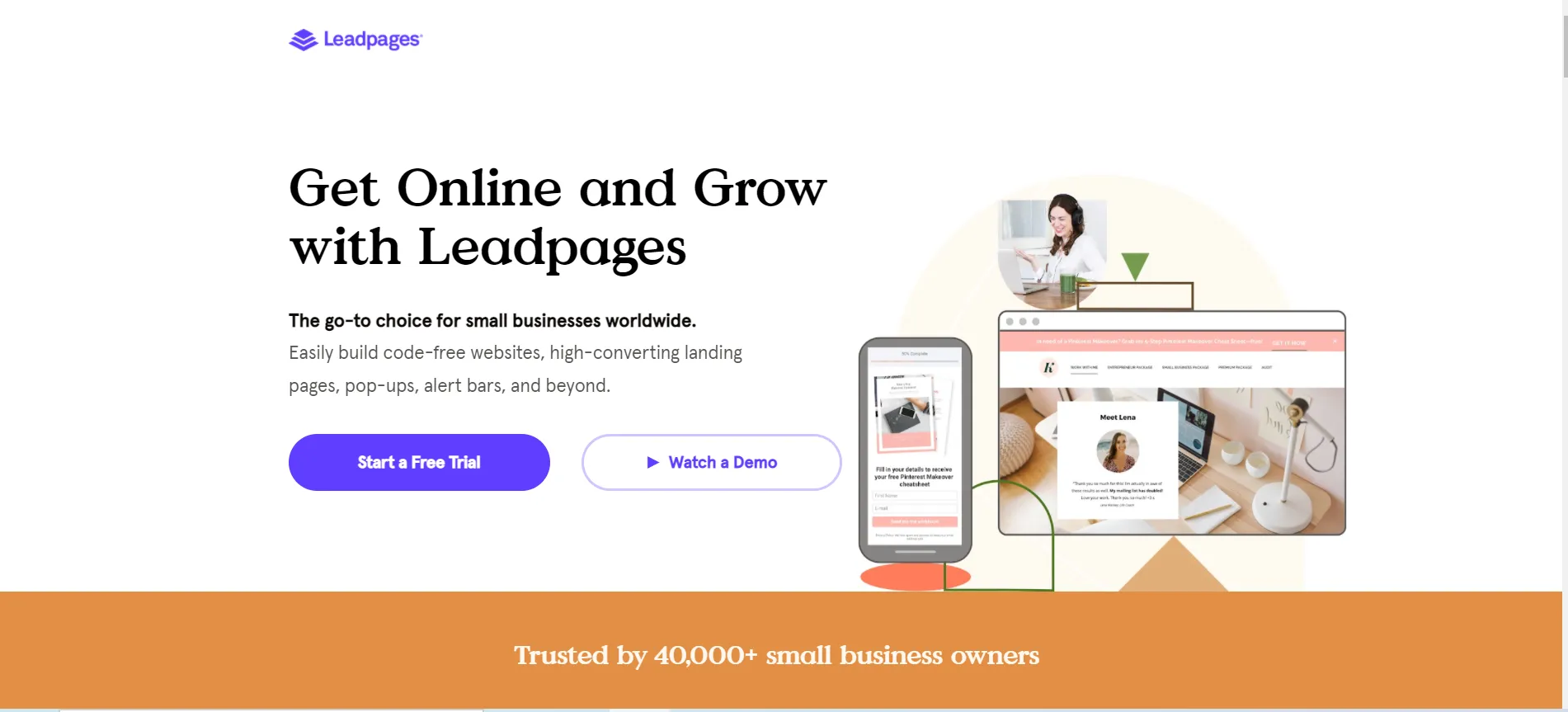 Best practices to create trial period landing pages:
Craft compelling headlines that emphasize the benefits for prospects.
Use subheadings to continue selling the trial.
Include supportive evidence and customer testimonials for social proof.
Keep form fields to a minimum and only ask for essential information.
Use clear design elements, like white space, bullet points, and icons, to aid comprehension.
Tools to create trial period landing pages:
SaaS marketers use Unbounce, LeadPages, or Instapage to create trial period landing pages.
14. Success stories
Why it works:
Success stories provide evidence of your product's capabilities and boost credibility. 43% of marketers believe that publishing success stories is the most effective way to drive sales. They can be long-lasting content that attracts targeted traffic through search engines.
Erica Keswin of HBR says, "Stories capture our attention on what's important."
For example, ConvertKit showcases customer stories about their product.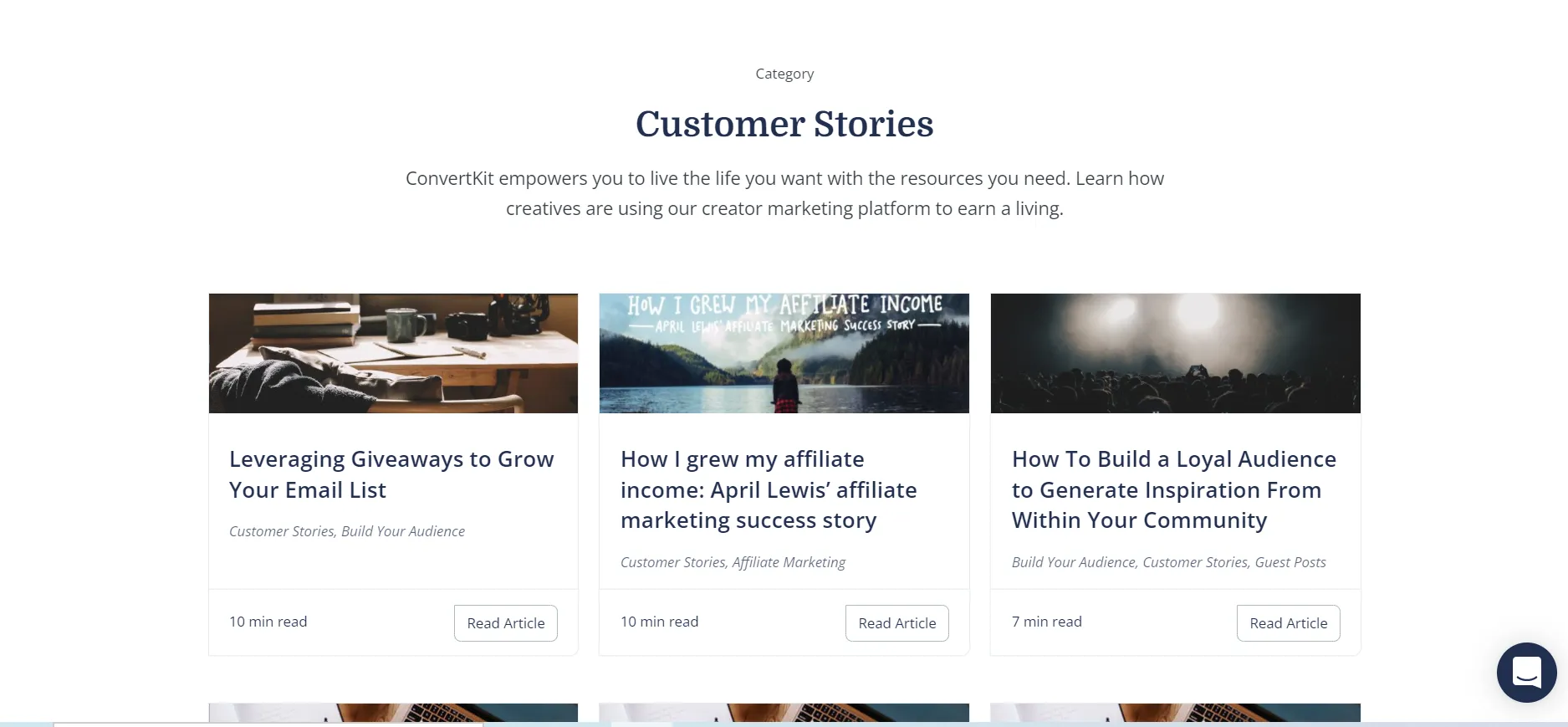 Best practices to create success stories:
Highlight how your product fits into prospects' goals and objectives.
Illustrate the story with graphics, photos, or videos.
Bolster qualitative statements with tangible data to increase credibility.
Tools to create success stories:
Use Typeform and SurveyMonkey to gather information from customers to build success stories.
Canva, Ceros, Uberflip, and Infogram can be used to create visually attractive success stories.
16. Original research
Why it works:
Original research is the #1 content format for B2B buyers researching their purchases. They drive lead generation, build trust and credibility, and demonstrate your industry expertise.
Original research is usually in the form of industry benchmarks, "state of" reports, trends reports, analysis of public data, or online surveys. You publish them on your website and distribute them through various marketing channels.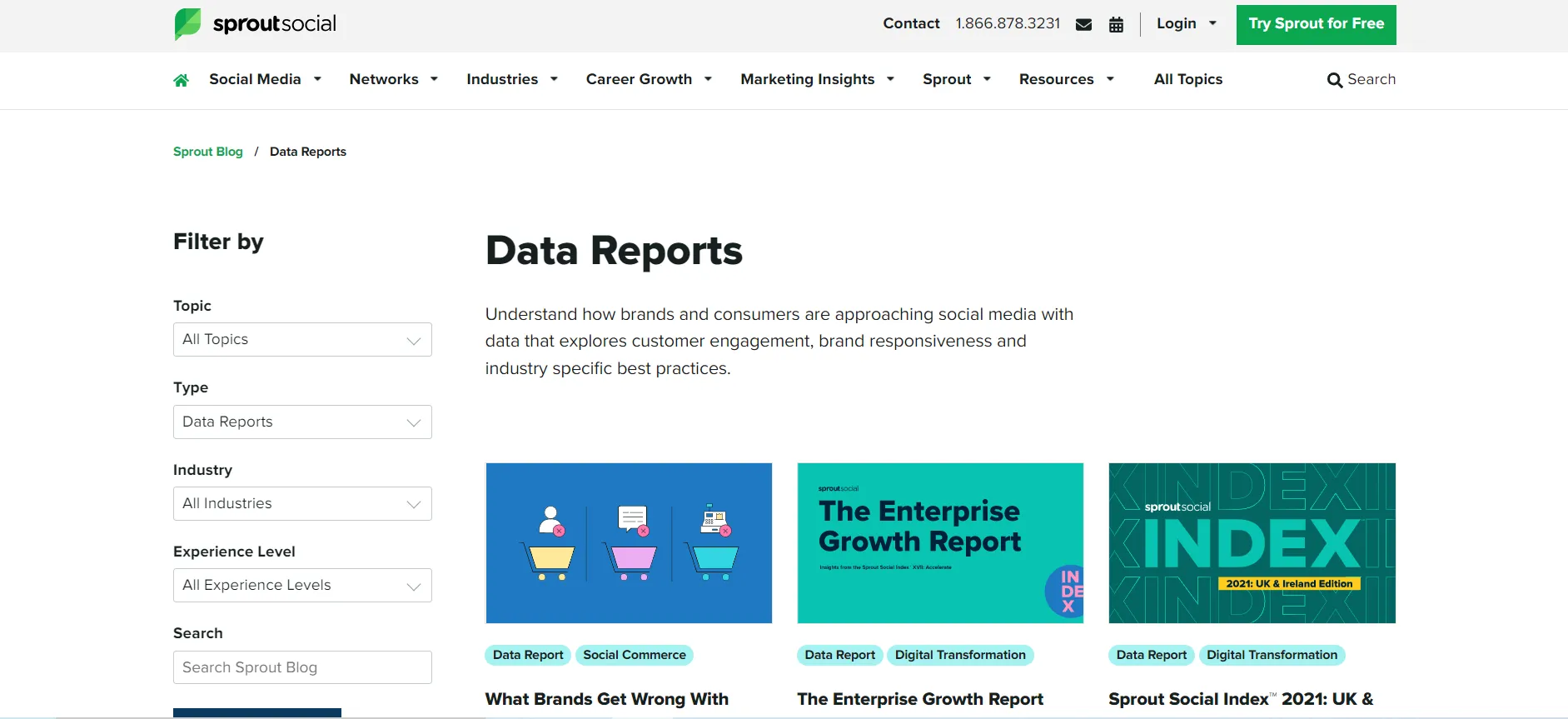 Best practices to create original research:
Define clear goals and target buyer personas.
Focus on an area with a gap in industry research, not a duplicate study.
Create a content strategy utilizing research data for whitepapers, reports, and blog posts.
Gate research to generate leads by offering an executive summary and requiring contact information for full access.
Tools to conduct original research:
Use survey tools like Pollfish, SurveyMonkey, and JotForm to conduct surveys in specific demographic categories.
LucidPress, Flipsnack, and DesignCap can be used to design the reports.
17. Share recognition on social media
Why it works:
Sharing media placements featuring your brand or product boosts awareness and builds trust with your audience by providing credibility to your claims and leveraging the recognition of the media outlet.
Tools to share brand recognitions:
Also, social monitoring and listening tools like HootSuite Insights, Talkwalker, and Nexalogy monitor social media platforms and the broader web for brand mentions that you can amplify on your socials.
18. Comment on questions on social media
Why it works:
SaaS marketers can showcase their expertise on online Q&A forums like Quora, Reddit, LinkedIn Groups, and HighTable. These platforms offer an attentive and motivated audience that is searching for a solution to their issue that your product can solve.
Best practices to answer questions on social media:
Answer questions objectively, avoiding a sales-oriented approach. Offer guidance as a knowledgeable expert.
Back up your statements with data and supporting evidence.
Consider different perspectives and acknowledge alternative views.
19. Podcast episodes
Why it works:
SaaS podcasts offer prospects key industry insights and help establish industry expertise.
Some of the best SaaS podcasts are The SaaS Revolution Show by Saastock, The Inside Intercom podcast, and Demio's SaaS Breakthrough.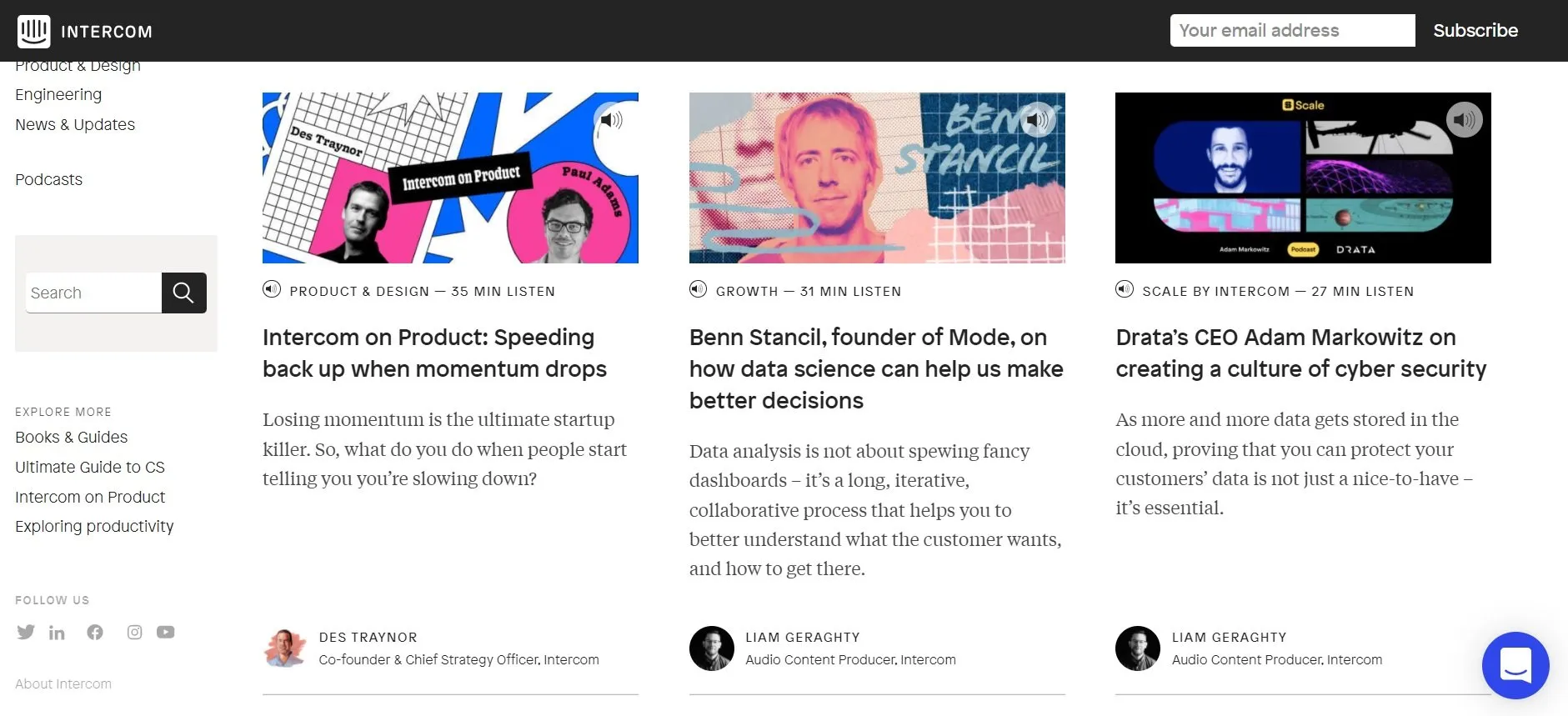 Best practices to create podcasts:
Plan each episode to address your target audience.
Feature interviews with customers and strategic partners.
Include a clear call-to-action in each episode.
Display episodes on your website or blog, and include show notes or transcripts.
Publish your podcast on popular networks for wider reach.
Reuse podcast content for social media posts, videos, or articles.
Tools to create podcasts:
Riverside.fm, Zencastr, and Buzzsprout are excellent tools to create high-quality podcasts and promote them.
20. Curated posts for Facebook Groups
Why it works:
Facebook groups can increase brand recognition and reach while also providing valuable insights. They foster a sense of community and attract like-minded individuals. SaaS marketers can post content and gauge response without any cost.
E.g. Krisp operates the Productivity Tips group where they share productivity advice, resources, and techniques.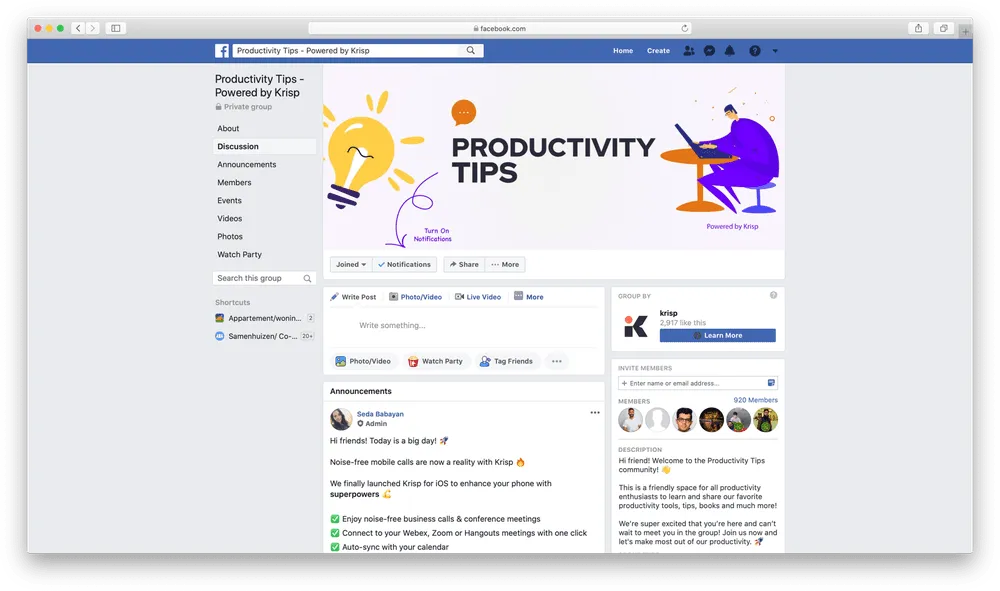 Ahrefs Insider is a private Facebook group meant only for customers to learn more about the product and how to get the most benefit out of the SEO tool. 
Best practices to create Facebook posts:
Plan your approach before posting in Facebook groups. Avoid excessive promotion of your blog posts.
Initiate discussions and share valuable insights. Be authentic and maintain your brand tone.
People prefer to engage with real people rather than impersonal company accounts or automated bots.
Tools to create Facebook posts:
You can design Facebook posts using Adobe Creative Cloud Express, Canva, or Pablo by Buffer.
Middle-of-the-funnel content production best practices
To effectively engage with a middle-of-the-funnel audience, you must be strategic. Prospects at this stage are considering your brand against your competitors, so your content must support their evaluation and research.
1. Create share-worthy content pieces
Middle-of-the-funnel content must provide useful information that helps the buyer make an informed decision. This type of content should highlight the benefits of your product and show how it addresses the specific needs of the buyer.
Additionally, it should offer comparisons to competitors, demonstrating why your product is the best choice.
2. Talk about your brand, your offer, and your stories
Middle-of-the-funnel content should focus on educating prospects about your brand and its solutions, highlighting the benefits, and providing evidence of your expertise and success. Make sure your content is shareable and engages prospects, encouraging them to learn more about your offerings.
3. Problem-centric content development
Middle-of-the-funnel content should showcase the unique features and benefits of your product, addressing pain points, and offering proof of its effectiveness through case studies, demos, and testimonials.
4. Double down on differentiating factors
Emphasize your unique value proposition and what sets you apart from competitors in your middle-of-the-funnel content to differentiate yourself from the competition and win over prospects.
5. Personalise
Tailor your middle-of-the-funnel content to specific audience needs and interests. Provide unique, relevant information that will help them see why you're the best solution for their challenges.
6. Talk about customers' problems
Focus on the prospects' needs, not just your product's features in middle-of-the-funnel content. Show how you can solve their problems, not just highlight your product's capabilities.
 7. Align content with users' goals and vision
When creating middle-of-the-funnel content, focus on how your product aligns with your prospects' goals and vision, rather than solely promoting its features. This will help guide prospects towards making a decision to use your product.
Middle-of-the-funnel content production mistakes
Here are some common mistakes you could be making when producing middle-of-the-funnel content: 
1. Reluctance to showcase oneself as a solution provider
Your middle-of-the-funnel content must showcase your product as the solution to your prospect's problems. Focus on offering a solution rather than just listing features.
2. Overemphasizing services and turning off users
Focus on providing information that will help them make an informed decision, such as customer success stories, detailed product descriptions, and case studies that demonstrate your expertise in solving similar problems.
3. Sounding "salesy" in copy
Use educational content and case studies to illustrate your product's value, rather than pushing a sales message. This helps build trust and credibility with prospects.
4. Avoiding hard facts when comparing with competitors
To offer a compelling alternative to prospects, support your claims of being better with facts and figures.
5. Talking about features more than benefits
Reframe challenges as opportunities and show how your product can help customers achieve their goals. Emphasize the value you bring to the table.
6. Not providing proof of competence
Provide concrete examples of how your product has helped other similar businesses, and use testimonials from satisfied customers to reinforce your message.
7. Focusing on blog posts and articles only
This type of content should also highlight the unique aspects of your product, its competitive advantage, and the solutions it provides to industry-specific problems. Additionally, it should be visually appealing, easy to consume, and shareable, to further boost its impact.
8. Not having a CTA in the content
Without effective CTAs, you won't be able to rope in qualified leads into your marketing funnel and you'll lose out on valuable customers.
Let's explore some CTAs most often used in middle-of-the-funnel content to encourage prospects to part with their information.
Prominent middle-of-the-funnel calls-to-action
In the middle of the funnel, prospects are in the consideration stage and are aware of your brand. Your job is to convince them that your product is the best choice for their needs. 
Middle-of-the-funnel CTAs encourage prospects to exchange their information for in-depth content that will tell them more about the merits of using your product. The content highlights your unique selling point and transfers knowledge and trust to readers.
Here's a list of the prominent middle-of-the-funnel CTAs:
Check now
Learn more
Tell me more
Yes, I'm interested
Contact us
Download eBook
Download whitepaper
Join Slack channel
Join us
Chat with us
Call me
Conclusion
SaaS content marketers should focus on creating high-quality middle-of-the-funnel content that demonstrates the value of their product, backed by facts and customer testimonials. This type of content will help build trust with prospects and position the company as the solution to their problems. 
A successful middle-of-the-funnel content strategy will require marketers to understand the needs and aspirations of their target audience, and tailor their messaging accordingly.