Case Studies
2 X Profits in only 9 months: From £1.2M to £2.4M ...FAST!
The European Bar School provides training for people who want to become bartenders. Their market target was: 18 – 21 year olds in Scandinavian countries.
When we started working with them, the challenge was…
To INCREASE Sales & Skyrocket GROWTH so they could expand internationally faster…
Identify the "Ideal" customer psychographic profile
Identify any leaks in messaging
Come up with a consistent smart Traffic generation solution that would grow Sales
Bartender School

https://www.barschool.net/
Now with POW  on board, after conducting our Marketing Foundations Workshop it took very little time to uncover the issue, responsible for stagnating the growth of the company was found – their messaging.
While, the bar school took pride in being the most ''professional'' bar school. Their slogan – ''Work Hard, Spirit and Soul''.
This even used to be written on their walls. After careful analysis, POW suggested that seeing as the ideal client is 18-21 just maybe "hard work" wasn't ideal.  Also, we found out that 75% of the students never went on to become bartenders. Not only that, but we also discovered that the £1,500 was usually paid for by their parents. 
Hence:
They would resonate more with the idea of travelling the world, enjoying a fun career, meeting new people and enjoying the experience of a lifetime.
Messaging.
We changed the message to cater mainly to the people who would want fun, party, and travel. Also, we increased the age range. Now it was like a 'Club 18-30 experience'. Results? A Night and day difference.   

The new message was now revolving around…  "Come and enjoy an exciting Adventure. Get an opportunity to Have the "Experience of a lifetime" & to make friends for life – all in a fun environment… while learning to be a Bar tender."

And it was a POW-er move.  From 'Work Hard' to 'Providing you with a reason to travel'.
People loved it.
Solution Part 1
Online ads, Remarketing, and creating a "Test drive" Experience
Getting people to pay £1,500 for the course would have been a bit of a hard sell… unless the participants were familiar with what the course was really going to offer.  What the real "Value" was.
So, in order to ease them in, we created "taster" experiences, where they would come and experience the fun of working behind a bar, hear from EX-Students… watch the awesome Videos and show in-person the good times, jokes, fun… and the continuous party that coming on this the course was going to offer.  

These 'Bartending Experiences' were organised monthly. When people would attend, they were also shown the destination videos of the exotic destinations they "could" go to once enrolled.

Also, they got to see good-looking past students speaking about their experiences.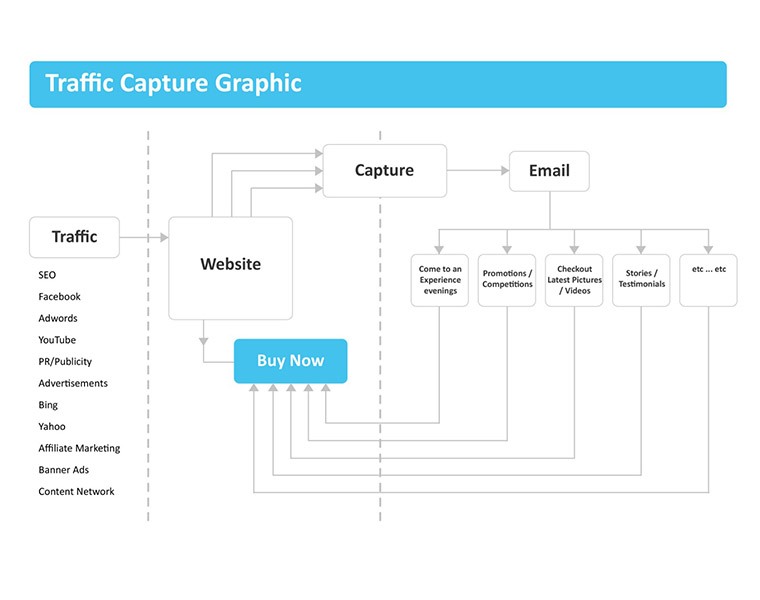 Flip the Script
Our founder Glenn P Burgess is infamous for his Lectures at Google and the saying: "Gorillas WANT Bananas"  
eg: you don't have to "SELL" a Banana to a Gorilla. That want it.  We simply give people exactly what they WANT. 
These young people were looking for a fun time, for a life adventure… they were looking to enjoy themselves and have the holiday "experience" of a life time.
We were simply re-framing the whole idea that they could have the best time of their lives with us…. as well as also becoming a Bartender.  …and getting Mum and Dad to pay for the whole thing. LOL
Solution Part 2
Website, Videos and Traffic Generation
1. We now had to re-design & rebuild their website in a way that was screaming – Travel and Fun (see image on the right). We also built out the sales funnels & landing pages to capture leads.
2. Through our sister Video Production company, Take 2 Video, we also scripted & produced promotional videos of the best school destinations – London, Greece, and Thailand.
These awesome fun videos got spread amongst prospects and shared like wildfire.
Only once the net was built, then we could open the traffic floodgates.
We sent traffic to the landing pages from 5 sources: Paid Ads (Pay Per Click) advertising, email marketing, SMS & telemarketing, events and  social media.
As you can imagine, we got many eyeballs. However, many people are lost on the first touch point with the brand.
So we set up a solid re-engagment campaign with omni channel remarketing which brought the majority of people back to the EBS landing pages, inviting them to our "Taster" workshops.
Please see below the summary of the campaign.
With better Messaging and by driving traffic into the sales funnel, EBS went from £1.2M to £2.4 in revenue in just under 9 months (April 2011 to Dec 2011).
We were very Proud we managed to double EBS's revenue and profits.
By doubling profits, EBS was able to open many other locations around the world. Under POW's marketing and guidance, European Bar School became the world's biggest bar school, having venues in Las Vegas, New Zealand, Canada, etc.
EBS is now the Worls largest bar school, with classes & schools all around the world.
Amsterdam, Barcelona, Berlin, Cape Town, Copenhagen, Dublin, Jalisco , Kos -Greece, London, Madrid, Mallorca, Miami, Milan, New York, Paris, Phuket, Rome, Speyside, Stockholm, Sydney, Vienna, etc, etc… the list goes on…
Would you like to double your Sales too?